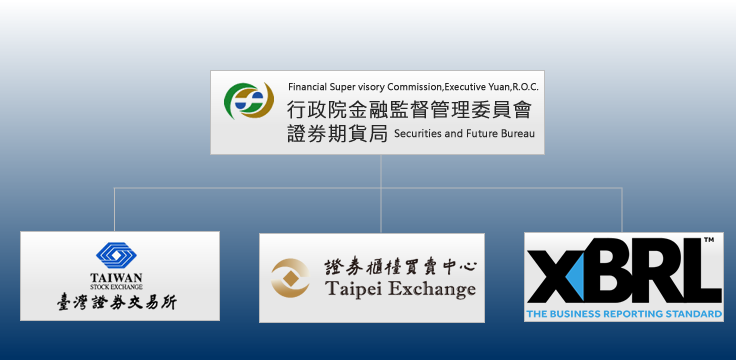 The ARDF XBRL Committee aims to encourage the study, development, and application of XBRL in Taiwan so as to promote the institutionalization of XBRL taxonomy while acting as the channel for international exchange and communication.
Under the supervision of the Financial Supervisory Commission of the Executive Yuan, the Taiwan Stock Exchange Corporation has launched the XBRL program in the capital market and has already completed the taxonomy development for different industries at the preliminary stage. This is the foundation for Taiwan in taxonomy development.
XBRL Definition
eXtensible Business Reporting Language (XBRL) is an open internet standard built on an XML base. While XML and HTML are functionally similar, for data transfer, analysis, and preservation, XML offers more convenience and flexibility. XBRL's main goal is to lower the overhead of data exchange, and simultaneously raise the accessibility of information. Through the internet,XBRL provides more timely access to information and increase its ultimate utility. XBRL creates standardized environment where users can use the internet to prepare, broadcast, exchange and analyze financial information. In addition to XBRL's automated financial data exchange and extraction being independent of information systems and software limitations, XBRL also reduces the need for different formats and input duplication. This allows users to compare and retrieve financial information directly,resolving the problem of inability to directly compare financial information in different formats.XBRL helps reduce costs related to financial reporting preparation, and creates more opportunities for investors and analysts to access financial information, and enhances the integrity and comparability of the business reporting information.
Taxonomy
Taiwan Stock Exchange started the taxonomy development for XBRL back in 2001 when the NII conducted a technical evaluation for such purpose. However, the effort was in vain, as there were no international standards established by then, and no authority in accounting could be served as a working partner. The Banking Bureau and Inspection Bureau adopted XBRL as the data interchange format in 2004 and 2005, respectively, to set up the platform and channel for financial supervision, and appointed the accounting industry in the country to establish the taxonomy data for financial supervision.
In 2005, Executive Yuan of the National Science Council launched the "Innovation in Cooperative Education Program" whereby inter-disciplinary research has been integrated on a much larger scale: "The e-integration of corporate financial information transparency and risk management in enterprises infrastructure" and the research program was established. Three seminars were held from January to March 2006. The seminars covered the contents of drafting the infrastructure of the XBRL industrial and commercial taxonomy modules, the taxonomy for account titles used in financial statements and notes to financial statements and the standard modules of materiality.